Facilities
Library
The institution library has good stock of books for the benefit of students and teaching staff.it is enriched with latest publication, national news papers, magazines and Journals to keep the students update.
Laboratory
There is a laboratory attached to the hospital to meet with the required investigations and test both for OPD and IPD Patients. The Following investigation are available –
Hematological tests
Urine Tests
X-Ray
ECG
etc.
Pharmacy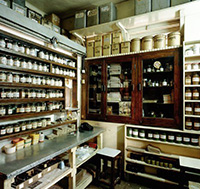 The Institution has a spacious and well equipped pharmacy manufacturing various types of medicine for the requirements of hospital.
The pharmacy is attached to the department of Rasa–shastra & Bhaishajya kalpana and renders the extensive knowledge of preparation various ayurvedic formulations for teaching and enhancing the skills of students.
Panchkarma
The Panchkarma is well equipped and furnished with the modern equipments. All the procedures performed by special trained male and female masseurs under the supervision of senior physicians. Some of the procedure are Vaman, Virechan, Vasti, Snehan, Swedan, Greeva Vasti, Kati vasti ,Nadi Swedan and Nasya etc.
Herbal Garden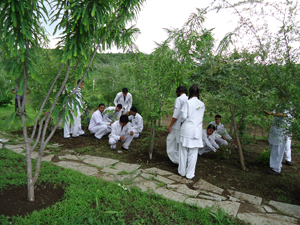 Our herbal garden is surrounded by lavishly green hills more than 02 acres area of land is projected for herbal medical garden.Approximatly 200 species of plants are planted here.Plant capacity of the garden is greater than 1500 plants .Navgrah vatika,Rashi udhyan and Nakshatra garden are also in our master plans. Seasonal variations in varities of species is always remain there.